Disclosure: Some of the links below are affiliate links. Meaning at no additional cost to you, I will earn a commission if you click through and make a purchase. Don't worry though. I only recommend products that I believe will help you on your journey.
---
---
How Can You Start Saving Money In Seconds?
Are you tired of feeling like you can't save any money?
You set these goals but can't ever actually achieve them?
At the end of every month, you never have enough money to make it?
This video below will explain the 1 simple question you can ask yourself to start saving money in seconds starting now.
More Of A Reading Person???
Transcript How Can You Start Saving Money In Seconds
0:04
Hey there, do you know what question you can be asking yourself to start saving more money in just seconds?
0:12
Today we're going to answer that. But before we dive in, I wanted to quickly introduce myself if we've never met before. Hi, my name is Aimee Cerka. Super excited that you're joining us here today.
So, what is the question that you should be asking yourself that you can start that you could use to start saving money in just seconds. The question, simple as it may be is… Do I really need it?
The answer to this question might be yes. And you know what, that's fine. A lot of times it probably is something that you actually need, but the fact that you're stopping to ask yourself that question, if it's something that you don't need, then you won't make the decision to spend the money because you don't actually need it if your financial goals are more important than whatever the object is that you are looking at purchasing. If you wanted to take it to the next level instead of just not buying that item.
What you could do is take the money that you weren't going to spend on that item, and you could put it towards a different a designated savings or an investment account whatever that might be, but I highly encourage you, I did a blog post on this. If the answer is yes, and if the item is more than $100. There's a secret ninja trick that I use is called the 24 hour rule to help make sure that you are still making the best decision for yourself and your family, even if it is something that you actually need.
And if you want to check out that blog post, you can do that HERE.
And, well that's it for today so the super simple way that you can make sure that you start saving money in seconds is ask yourself the question Do I really need it?
And depending on what that answer might be don't make the purchases if you don't actually need it. And like I had mentioned that up-level there that you can put that money into savings or an investment account instead. Since you aren't going to spend it on that item that you were thinking about.
So if little tips and tricks like this will help you and you like this kind of information I highly encourage you to check out the Inner Circle program, and the doors are only open on it until tomorrow Friday at 11:59 Central time. So, if you don't have the link to check that out, just let us know. Or actually, it's https://aimeecerka.com/innercircle But go ahead and check that out at highly encourage you to join us but there's also some free training in there as well that I want to make sure you take advantage of also. So that is it for tonight. We'll see you later. Bye.
Your Action Step For Today – Check out the Inner Circle Program so that you can generate wealth utilizing your existing personal finances, starting today. That way you have more to add to your savings and/or investment account. Create the security you are looking for now.
After that I want to hear what you are working on and if this has helped you so leave a comment below. You can also head over to the Resources tab to check out some of my favorite tools!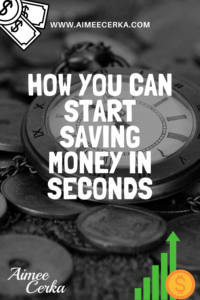 Join the Conversation and Stay Connected – leave a comment below
And
If you found value in this content please share – the icons should be on the left and directly below!