Disclosure: Some of the links below are affiliate links. Meaning at no additional cost to you, I will earn a commission if you click through and make a purchase. Don't worry though. I only recommend products that I believe will help you on your journey.
---
---
Top Office Tools To Be Successful In Business
Have you ever thought about starting your own business of some sort? I highly recommend that you have a business, even if it isn't your main source of income. But we can talk more about that later.
Let's say that you are deciding to start your own online business. If you want to have a physical store stay tuned because most of these tools will still work for you.
Evernote – I LOVE Evernote! Seriously, it's amazing. Basically, it's a note taking an app that is cloud based so you can access on multiple devices. There is a free version but I upgraded to the Premium so that I can access on unlimited devices – there are some other benefits as well.
~ Check out this tool at http://bit.ly/2TgLcgA
Zoom – If you need to set up video conferencing or phone conferencing with clients, prospects, team members, or collaborators. This is a handy tool to help you. You can schedule appointments and send the other participants the reminder and the unique ID. Once again there is a free version available as well as paid. The free version should work especially when you are first starting out.
~ Check out this tool at https://zoom.us/
Bitly – Bitly is super helpful especially with social media marketing. Which if you are going to have an online business, this is going to be a requirement. What bit.ly does is shorten your super long link like https://aimeecerka.com/budgetmakeoverguide-ss/ to http://bit.ly/BMG-SS. Not only does this look better but when it comes to social media character counts are limited so your super long URL will take up more of your post space.
~ Check out this tool at https://bitly.com/
Calendly – One thing you will have as a business owner is appointments. Appointments with business partners, prospects, customers etc. Calendly allows you to provide a link and your prospect or customer can book their appointment with you. The neat thing about Calendly is you can integrate with your existing calendar (like Google Calendar) so you can avoid double booking.
~ Check out this tool at https://calendly.com/
AWeber – If you have an online presence, having an email list is a must! In my opinion, the best email responder service you can have is AWeber. You start out with a free trial then it's $19/month up to 2,000 subscribers. After that, the price will increase. They have excellent customer service and are available 24/7. You also can access multiple pieces of training both free and at a great price on optimizing your email marketing to the max.
~ Check out this tool at http://bit.ly/2rWxzYb
This is far from a complete list but these tools will help you get started off on the right foot!
YOUR ACTION STEP FOR TODAY – Check out at least one of these tools, then I would love for you to connect with me on social media. I want to hear what tools you are using and what value you found in this list. You can also check out my FREE Financial Action Guidebook directly below this post!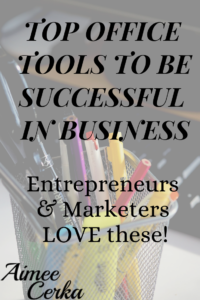 Join the Conversation and Stay Connected – leave a comment below
And
If you found value in this content, please share – the icons should be on the left and directly below!