Disclosure: Some of the links below are affiliate links. Meaning at no additional cost to you, I will earn a commission if you click through and make a purchase. Don't worry though. I only recommend products that I believe will help you on your journey.
---
---
3 Ways To Save At The Movies
Did you know that you can attend the movies and not spend a fortune? Watching movies is one of my favorite ways to spend my free time. Although, I don't get to go to the movie theatre as often as I would like with 3 little kids running around.
Here are 3 tips to help make your next trip to the movies not burn your pocket.
Eat Before You Go – You'll save a ton at the concession stand if you only but sodas for everyone and share a popcorn instead of everyone needing their own popcorn and candy as well as the soda.
Go To The Matinee

– Tickets to the movies are more expensive in the evening so if you go earlier in the day that's better. If you go to the first show of the day that is called the matinee. The matinee is normally a significant discount and as a bonus, there is most likely going to be less of a crowd!

Pick Your Theatre Wisely – If you wait 4-6 weeks after a movie comes out then you can find movies at cheaper theatres. One of our favorites to go to is the dollar theatre. You have to look for one but when you can go to the movies for just a couple bucks it's way more enjoyable!
As a bonus, one of our favorite places to go to the movie though is the drive in! It is also the most practical with 3 little kids! We bring our chairs and sit outside our vehicle, I can hold the sleeping baby while we enjoy the movie. Another fun thing is that drive-ins most the time are double features! So you'll end up paying the price of 1 movie and get 2.
What are your favorite ways to save at the movie theatre?
YOUR ACTION STEP FOR TODAY – Choose one tip and start implementing it today, then I would love for you to connect with me on social media. I want to hear what you are working on and if this has helped you.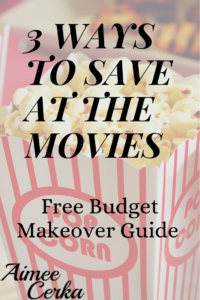 Join the Conversation and Stay Connected – leave a comment below
And
If you found value in this content, please share – the icons should be on the left and directly below!