Disclosure: Some of the links below are affiliate links. Meaning at no additional cost to you, I will earn a commission if you click through and make a purchase. Don't worry though. I only recommend products that I believe will help you on your journey.
---
---
Grown-Up Girlfriends Review
Wanted to share some thoughts on one of my latest reads Grown-Up Girlfriends Finding and Keeping Real Friends in the Real World by Erin Smalley and Carrie Oliver. I'll have to confess that I have started this book before, back when I wasn't as diligent on finishing the books that I started. This time though I did read the book cover to cover. 🌞
As you probably can guess this read was about what traits and characteristics are ideal in a grown-up friend. I enjoyed learning the biblical ties to the traits and commandments that have been lined up for us to seek out in our companionship.
It was not a page-turning novel for me but I did enjoy the principles that it taught. They were a great reminder of the friend that I want to be to others. As well as what I want to look for in my grown-up friends.
Overall I would recommend reading Grown-Up Girlfriends to all women who are striving to find the missing relationships in their lives or those looking to improve their current relationships.
YOUR ACTION STEP FOR TODAY – Check out Grown-Up Girlfriends at the link here, then I would love for you to connect with me on social media. I want to hear what you are reading currently! You can also over head over to the resources tab to check out some of my other favorite personal development books!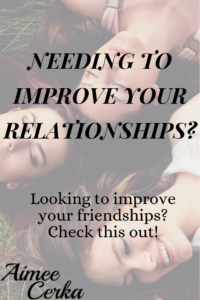 Join the Conversation and Stay Connected – leave a comment below
And
If you found value in this content, please share – the icons should be on the left and directly below!