Disclosure: Some of the links below are affiliate links. Meaning at no additional cost to you, I will earn a commission if you click through and make a purchase. Don't worry though. I only recommend products that I believe will help you on your journey.
---
---
Do You Go Into Massive Debt During The Holiday Season?
Did you know that statistically, most Americans go into a little over $1,000 debt every year to pay for their Christmas? 🎄 I heard someone bragging the other day that they put Christmas on a credit card and then spend the whole year trying to pay it off just to do it all over again next year. 💳
The definition of insanity is doing the same thing over and over again and expecting a different result. That's what that sounds like to me.
How could we correct this cycle? The first thing that needs to be done is a Christmas budget. Now I'm betting your cringing at this thinking being on a budget will ruin my Christmas. I think you'll find that it is quite the opposite. Sure, it might be a little uncomfortable in the beginning because you'll have to say no. Long-term the difference you'll be able to make in your finances is massive, which will allow you to increase your budget without being in that debt cycle.
The way this makes a difference in your long-term finances is after we have created the budget for this year's holiday season. You know how to prepare for next year. Start setting aside money weekly, monthly, bi-weekly whatever works for you in a targeted savings account. The target of this account is to reach your Christmas budget limit so that you can pay cash for Christmas. The targeted savings account needs to be in a separate savings account away from where you spend your money on everyday purchases. If you can see it there and transfer it to your checking account easily. You'll most likely spend it. 🏧 So separate checking account is a must. I would recommend a separate bank. I personally love Discover because they give a much higher savings rate then I see in other places (I know it's not a lot, but it adds up). 🏦 They also have awesome customer service, they have been so easy to deal with. I have checking, savings and a credit card with them. They have been the most willing to work with me when it feels like world comes crashing down around you. So add creating that targeted savings account to your list of action steps to get done. CHECK OUT DISCOVER'S BENEFITS HERE.
Let's create the budget for this years Christmas season!
Create a list of everyone that you bought presents for last year. 🎁

Include white elephant gifts, gift exchanges

Family presents like Christmas Eve boxes

Gift programs like Christmas Shoebox – check out the one that we participated in this year HERE

Create a food/party category – add a list of everything you need to make for parties this year

Annual Christmas traditions – anything that your family must do every year. We LOVE looking at Christmas lights.
The biggest portion though is step number one. Once you have the list of the people you are buying for. Ideally, figure out what you are going to get them. For our kids, we have implemented this rule
Something they want

Something they need

Something to wear

Something to read
We'll also add in an experience gift if there isn't one already in one of those other categories. Starting next year we aim to be able to take vacations or give vacations during this time frame. 🌴 The time with our kids goes so fast and I want to make sure that I create as many memories as possible. Of course, they also get a gift from the big guy in the red suit and their stockings are full on Christmas morning. 🎅 If you know what you are getting everyone that will help with the budget for that person. You'll be less likely to buy that impulse buy at the store.
Assign a spending number for each person on the gift list. 💰 Once you give yourself a spending limit, you'll take some pressure off of yourself. I aim to make it close to the same for the kids. I know that the stores work hard on their advertising to make us believe and think that everyone 'needs' all these latest new things but focusing more on experiences and less on toys and junk that gets shoved in a corner, broken or forgotten is unnecessary.
Extras you'll want to make sure you include in your holiday budget
Travel expenses – going out of town or got a long drive? Don't forget gas and all the extra involved just to get there ✈️

Outfits for holiday photos and events

Matching Christmas pajamas? I know that this is a huge trend lately, for us it's part of our Christmas Eve box but if it's not for you don't forget it!

Any new relationships that wouldn't have gotten gifts last year

Teacher gifts

Coaches

Extra-Curricular activities

Church leaders

Neighbors

Bosses & Co-workers
Don't forget to enjoy the season! 🎄 🎁🎄 🎁 🎄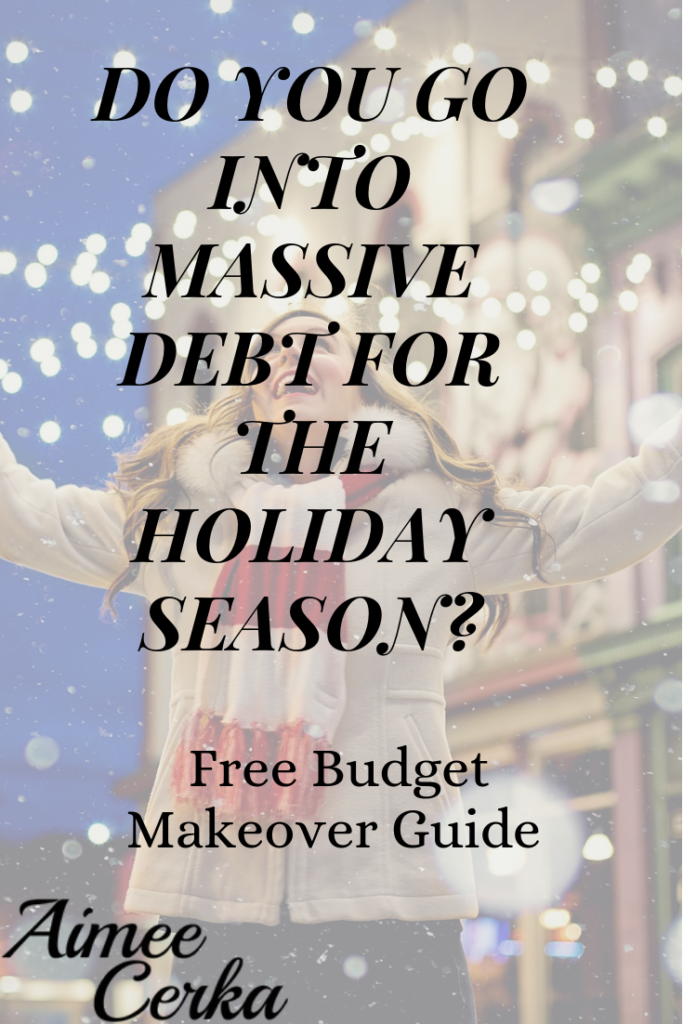 YOUR ACTION STEP FOR TODAY – Choose one tip and start implementing it today, then I would love for you to connect with me on social media. I want to hear what you are working on and if this has helped you. You can also over head over to the resources tab to check out some of my favorite personal development books!
Join the Conversation and Stay Connected – leave a comment below
And
If you found value in this content, please share – the icons should be on the left and directly below!