Disclosure: Some of the links below are affiliate links. Meaning at no additional cost to you, I will earn a commission if you click through and make a purchase. Don't worry though. I only recommend products that I believe will help you on your journey.
---
---
Ways To Save On Holiday Parties & Entertaining
As we enter the month of December all the parties and festivities have already begun. These events can burn a hole in your pocket and we aren't even to the big day yet!
If you're hosting here are my favorite ways to make sure you get to enjoy all the experiences without going broke. 🍷
1. Turn down the heat – if people are coming over the body heat or oven running will warm the house so you can turn down the heat earlier in the day. Personally, I love keeping my house a little chilled so that we can cuddle under blankets. If you have a new baby at home as I do just make sure they aren't cold. By turning down the heat you'll save some and your guests won't be roasting.
2. Less is More – Your parties don't need to have 50 food & beverage options, it's overkill. 2-3 options work just fine. Your guests are there to spend time with you and if you have to be in the kitchen the whole time that's no fun for anyone OR if you got everything prepped beforehand you are still tired come party time. Either way, having fewer food options and enjoy your company is a win-win for everyone. 🥂
3. Decorations – 🎄 I love to decorate for Christmas. So, this definitely does NOT mean I'm recommending not to decorate for Christmas (or whichever holiday you celebrate). I believe that you can still enjoy life while living responsibly and within your means. My husband and I have been married for a couple years so we have been slowly adding to our Christmas collection. Adding just a couple things every year has spread out the cost for us. Another idea we have utilized is taking others Christmas donations when they change them out. Some people change their decorations every year so the ones we get are almost brand new!
This is my favorite time of the year and I love enjoying the time with friends and family and celebrating what I believe is the true reason for the season which is God sending his son to be born a baby in a manager. The gift he gave us and the gifts that we can give each other and those less fortunate. 🎁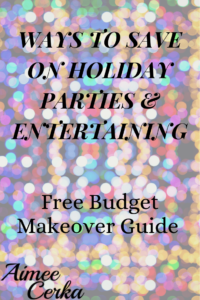 YOUR ACTION STEP FOR TODAY 🎁– Choose one tip and start implementing it today, then I would love for you to connect with me on social media. I want to hear what you are working on and if you found these tips helpful.
Join the Conversation and Stay Connected – leave a comment below
And
If you found value in this content, please share – the icons should be on the left and directly below!