Disclosure: Some of the links below are affiliate links. Meaning at no additional cost to you, I will earn a commission if you click through and make a purchase. Don't worry though. I only recommend products that I believe will help you on your journey.
---
---
Want To Find Extra Cash?
Savings Apps
You're on track – keeping your nose to the grindstone. You want to change your financial situation. You know what can happen if you succeed. But you're looking for that little edge to help the process go that much faster.
Here are 4 apps that I have found that will help you save a little extra so that your money will go a little bit farther! These extra minutes of your time won't necessarily make you a millionaire, but it adds up.
Again, these apps won't make you rich but you'll start saving some of your hard-earned money.
YOUR ACTION STEP FOR TODAY – Choose one app and set it up today, then I would love for you to connect with me on social media. I want to hear what you are working on and if this has helped you. You can also head over to the Resources tab to check out some of my favorite tools!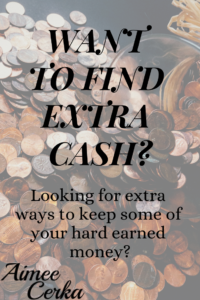 Join the Conversation and Stay Connected – leave a comment below
And
If you found value in this content, please share – the icons should be on the left and directly below!